Reverse sleeves, booklets, and box layout for Arrow Academy and Arrow Video
The producers at Arrow assigned me
Survivor Ballads: Three Films by Shohei Imamura
in July of 2020 though work didn't start for another couple of months.
Versus
appeared on my radar in late September and
Shogun's Joy of Torture
in early October. Once again, as someone not well-versed in Japanese cinema, these projects were wonderful learning experiences.
Survivor Ballads: Three Films by Shohei Imamura
Shohei Imamura was a leading figure of the Japanese New Wave and this set presents three of his later works.
The Ballad of Narayama
 explores the practice of 
obasute
, in which elderly people are carried to a mountain and abandoned to die.
Zegen
is a satirical look at Japanese pre-war colonial expansion.
Black Rain
(not to be confused with the Ridley Scott film) tells the harrowing story of atomic bomb survivors.
This project proved to be a challenge, but a rewarding one. The great
Tony Stella
did all the new artwork and title treatments and I consulted with him every step of the way. I ended up re-typing some of the text once I brought all the assets over to InDesign and I believe the font is Avant Garde Extra Light.
Some of the elements on the box art had to be resized and repositioned and Tony was kind enough to provide me with a blank canvas texture to fill in the gaps. At one point, I needed to clone out just one brushstroke in the middle to make room for a line of text on the spine, but then I was told I had to switch to a different template (right when I was almost finished!) and I was able to add the brushstroke back in.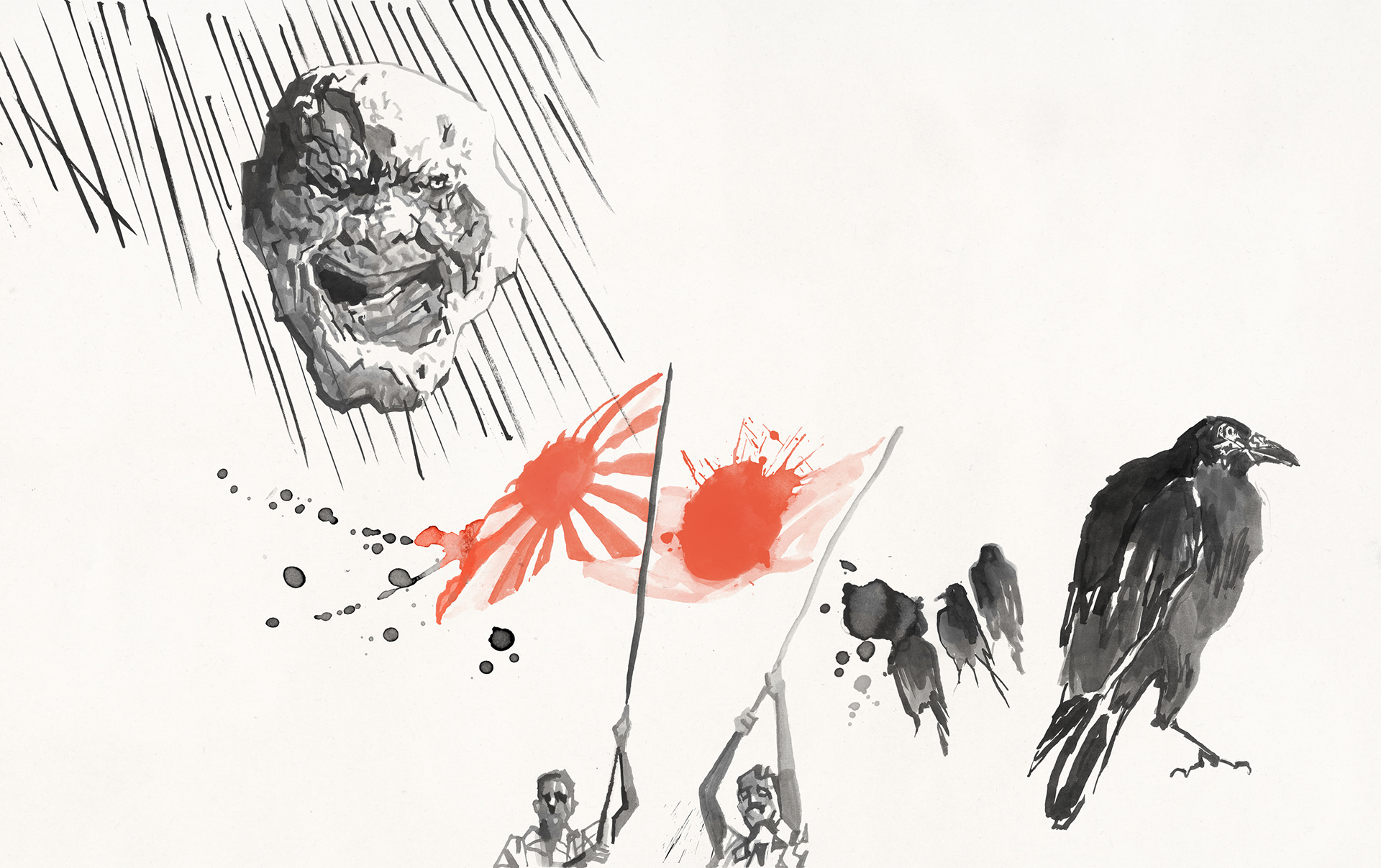 For
The Ballad of Narayama
's reverse sleeve, I decided to crop the original artwork but was able to save the characters on the bottom right corner for the spine. The Japanese title was auto-traced in Illustrator and resized/repositioned.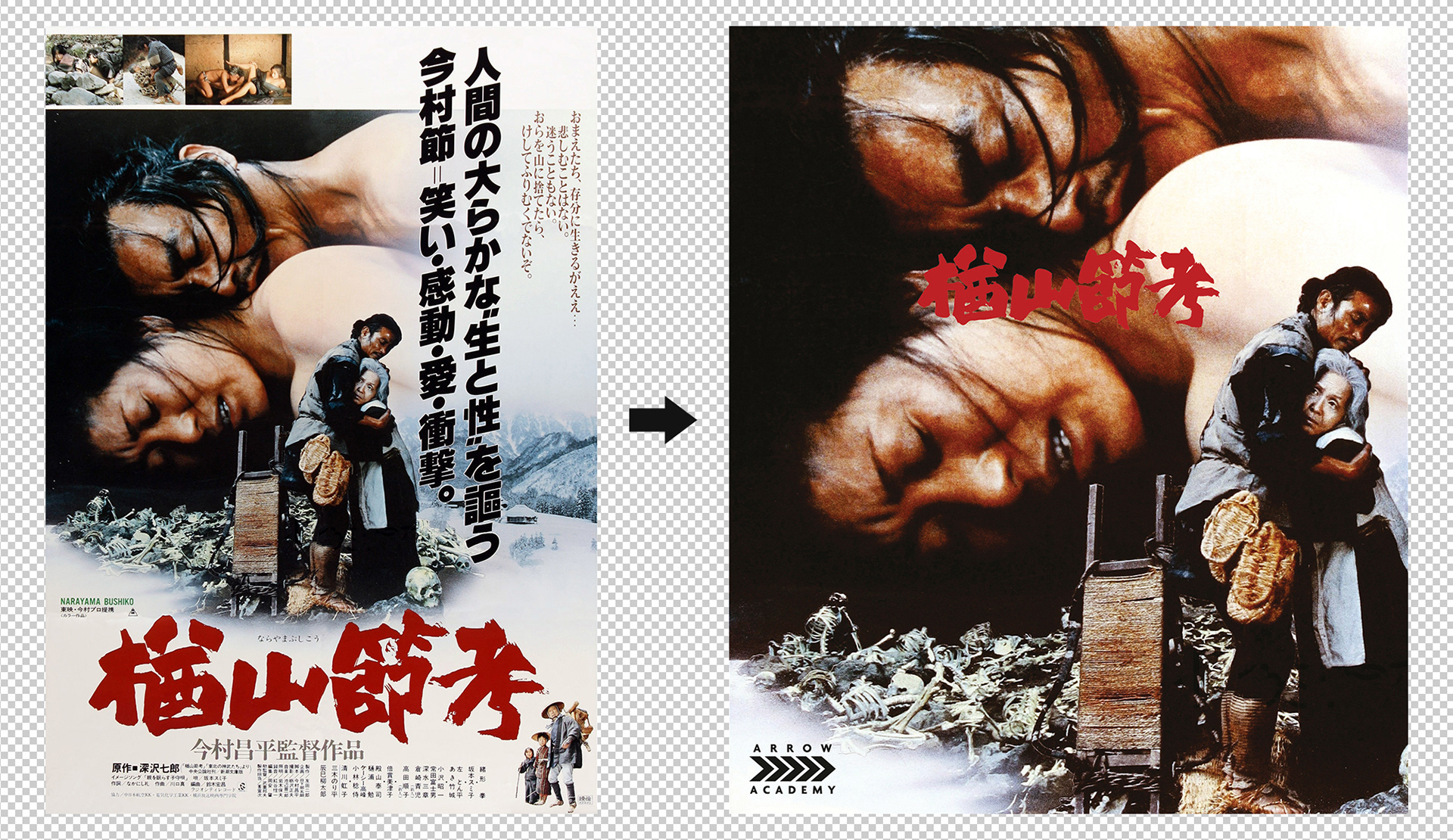 For
Zegen
's reverse sleeve, I only had a photo of the artwork which required major curve adjustments and color correction as well as some minor clone work. The Japanese title was auto-traced in Illustrator and resized/repositioned.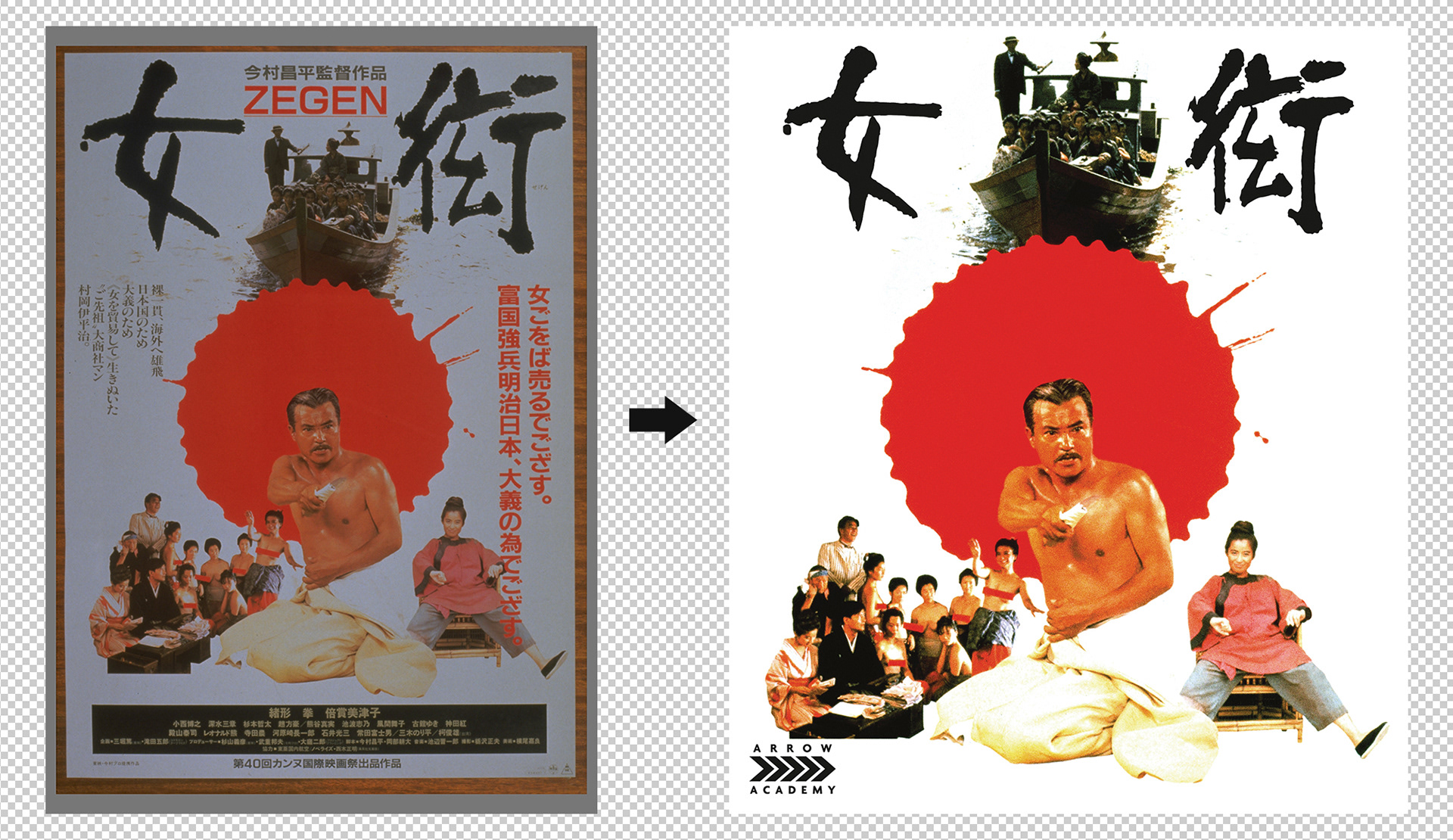 For
Black Rain
's reverse sleeve, the artwork provided to me wasn't the best resolution so I added a slight blur effect and some additional grain, not unlike what I did with
Hiroshima
. The title was simply retyped. (Truth be told, I wish I could have another crack at this one.)
The stills were in pretty good shape, requiring only the usual brightness/contrast adjustments and color correction. Specifically, in the case of the first still below, I always look to see which ones can be used for 2-page spreads, then I crop accordingly and either darken or lighten specific areas for text. The second still below was also used for a 2-page spread, hence the darker area on the top right for text.





Inspired by Tony Stella's font choice, I used Avant Garde Extra Light for header text along with
Cormorant Garamond
for body copy. This was my first 60-page booklet and you'd think after the 200-page book for
The Game
that it would be easy but it was still a challenge, especially when dealing with widows and orphans. A widow is a paragraph-ending line that falls at the beginning of the next page while an orphan is a word that appears by itself at the end of a paragraph. Sometimes they're unavoidable... but I try. Often the problem is solved by adjusting the tracking or removing a superfluous word.
Tony Stella supplied separate artwork for the booklet cover which, unlike Arrow's shorter booklets, required a spine and separate inside front and back panels. And Tony's title treatments were saved as transparent TIFF files so I could resize and reposition them as needed, as seen on the discs below.




Combine zombies, gangsters, sword fights, and some seriously bloody violence and you end up with 
Versus
which launched the career of director Ryûhei Kitamura. This project was pretty straightforward except for one part which I will discuss below.
The amazing
Chris Malbon
did the artwork while I'm not entirely sure where the reverse artwork originated. Everything was on one layer so I painted out the text and added my own. I always prefer to have text on separate layers for maximum flexibility. And the reason the head room is so tight is because I still needed enough image for the standard 1/8" bleed (the area that's trimmed).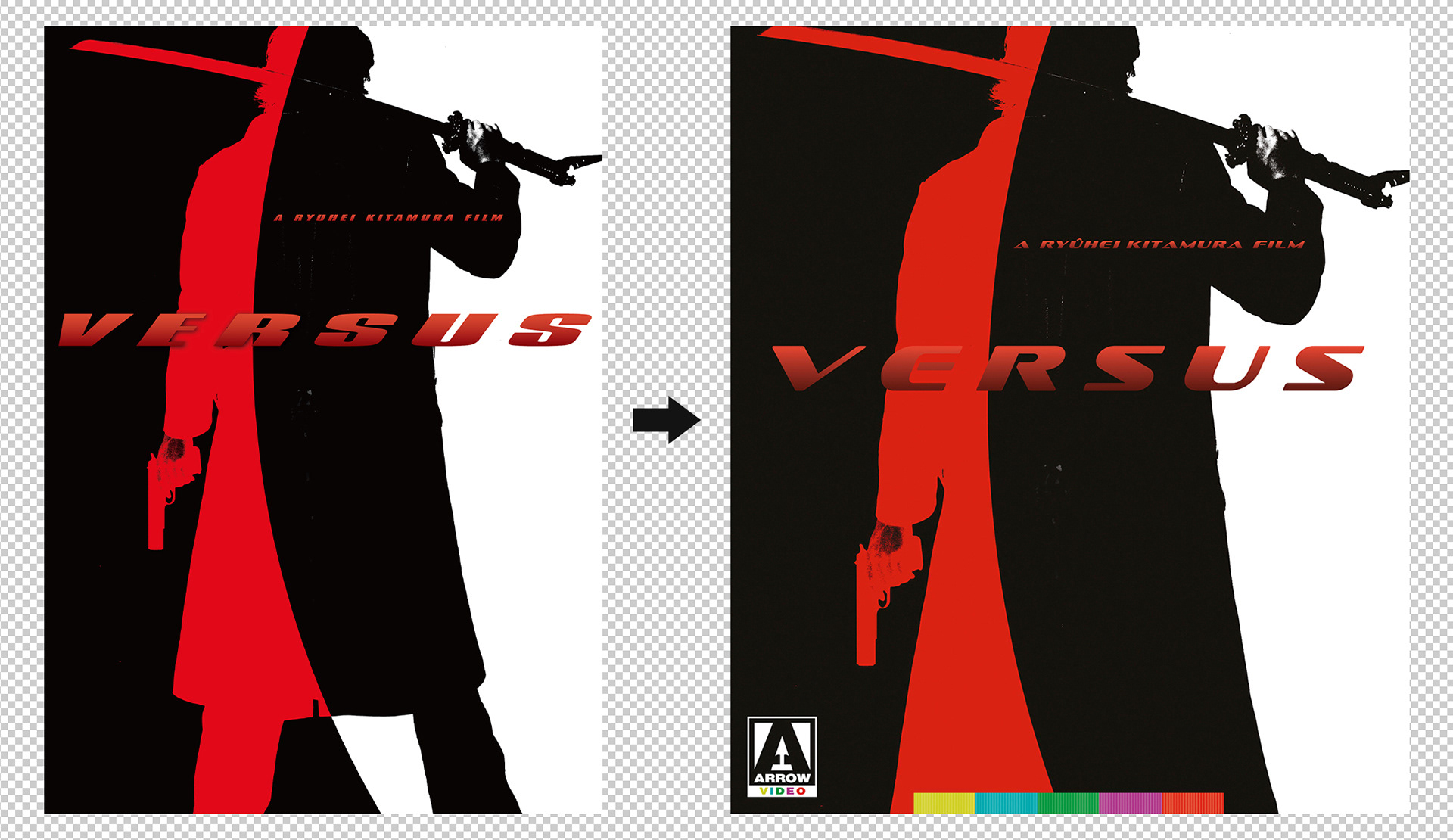 The quality of the stills supplied to me was... not great, but I made the usual adjustments and spiffed them up the best I could. I was nervous about blowing them up too much but this is one of those projects where you just have to embrace the imperfections and make it part of the overall style.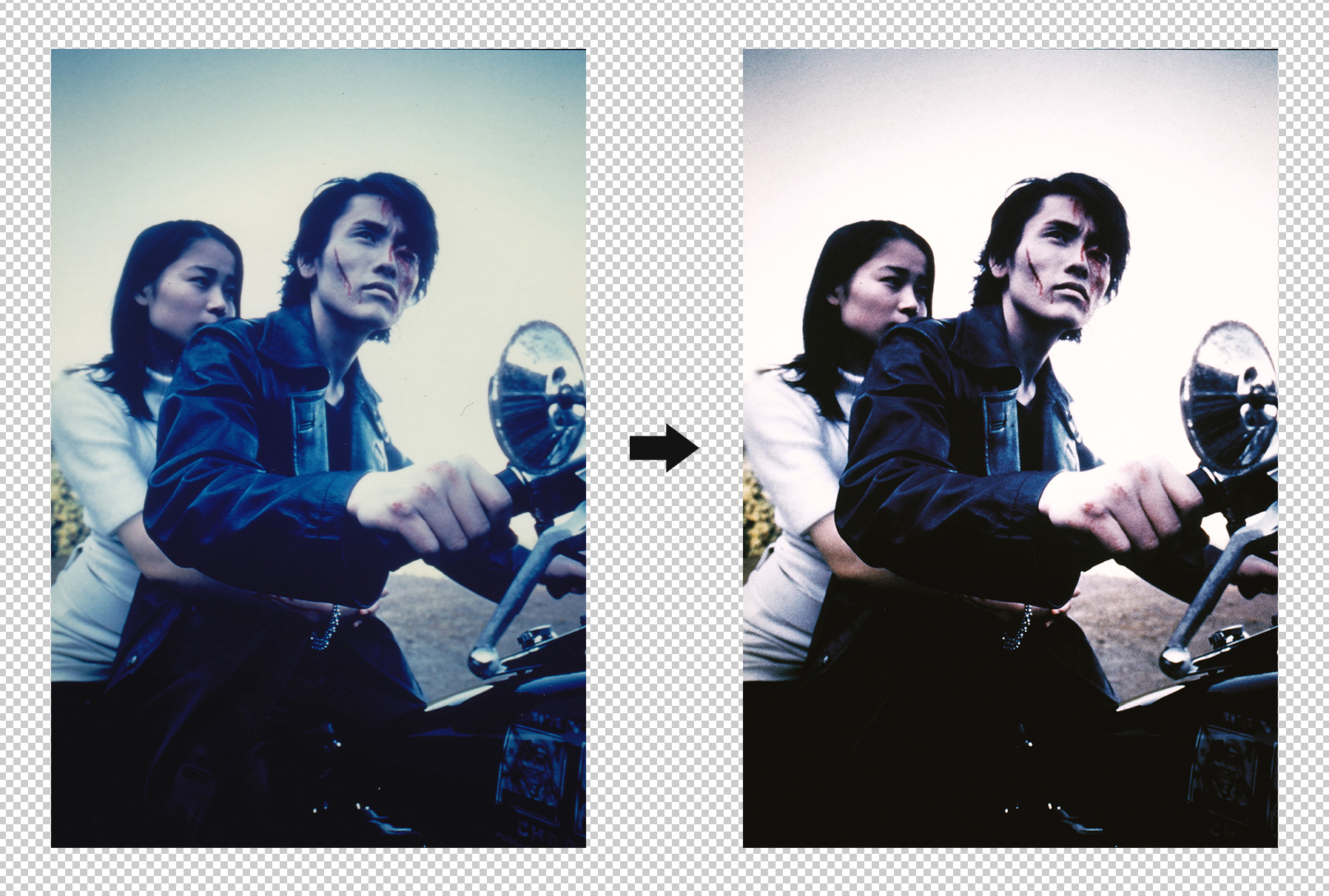 And the challenging part... after
Mallrats
, this would be my second release with an O-card featuring a spot gloss coating. On
Mallrats
it was only the title, but here it would be the title and parts of the artwork. My producer sent me an annotated screenshot highlighting the parts of the artwork to get the gloss treatment. 
I contacted Chris Malbon and thankfully he was kind enough to provide me with a layered Photoshop file which allowed me to isolated specific layers and even this took a while to get just right. It also made it possible to adjust certain elements for the back cover and the discs. The spot gloss layer would be presented on a separate page in magenta.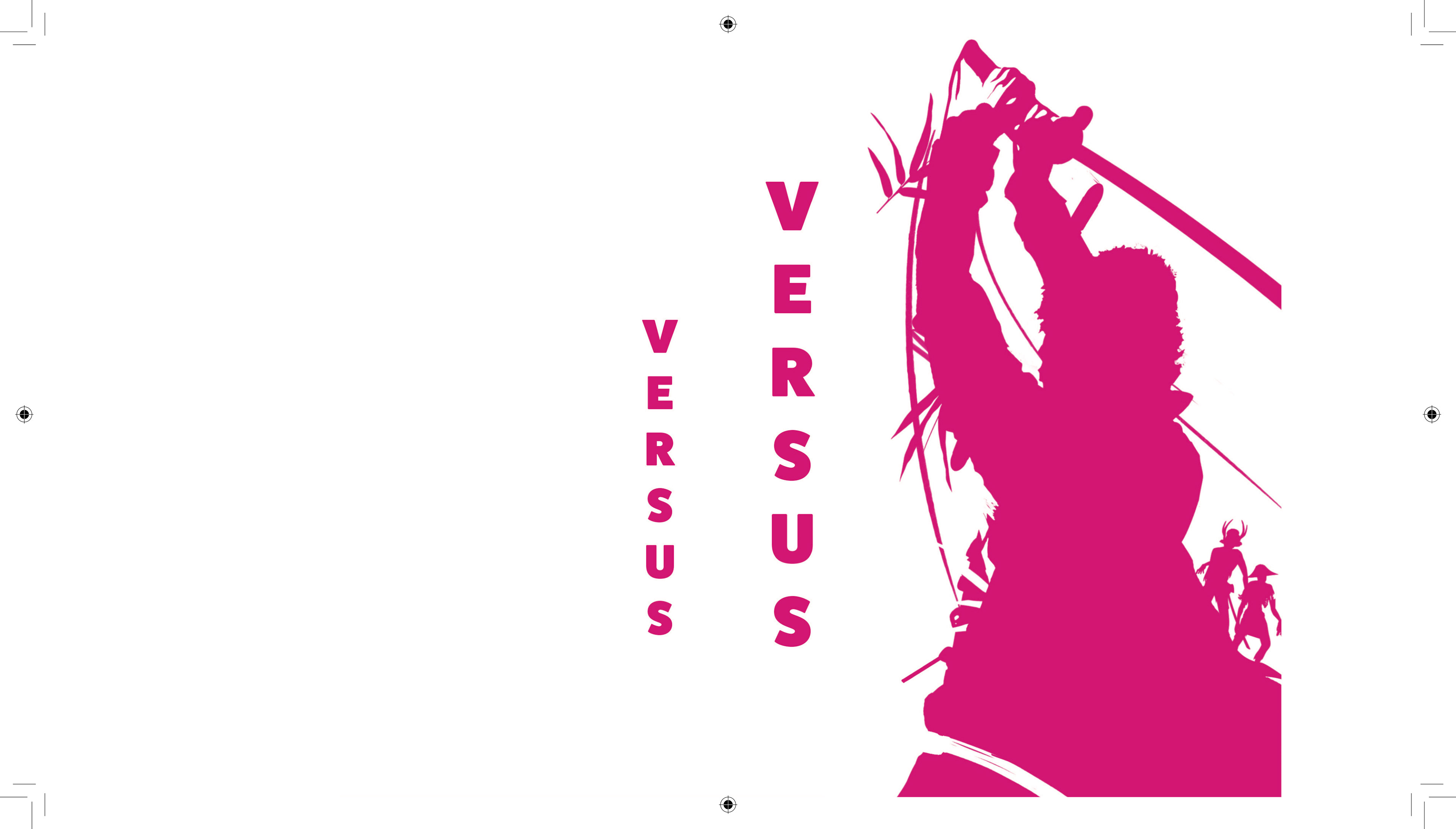 The booklet had its share of challenges, most notably the aforementioned widows and orphans problem. I used
FatFrank Heavy
for the header text (which is what Chris Malbon used for his title treatment), Helvetica Neue LT 67 Medium Condensed and 47 Light Condensed for subheader text, and Cormorant Garamond Medium for body copy. I admit I can't remember why I used three typefaces instead of the usual two, but it was most likely because FatFrank is only available in one weight (heavy) and couldn't be used for the cast and crew names.


From director Teruo Ishii, 
Shogun's Joy of Torture
is an
ero guro
(erotic and grotesque) omnibus featuring three sordid tales taking place during the reign of the Tokugawa shogunate.
Talented comic artist 
Jacob Phillips
did the artwork while I was tasked with creating the title treatment. I tried to have it resemble the title treatments on Arrow's previous Ishii releases and, as usual, I created separate multi-line and 1-line versions. The font is
Dr. Jekyll
.

I was provided with the original Japanese one-sheet but it just wasn't usable. After scouring the net, I managed to find a decent (albeit awkwardly censored) image on Amazon Prime Japan of all places. I had to recompose certain elements and much like the
Versus
reverse artwork, things get a bit cramped in some places on account of the 1/8" bleed.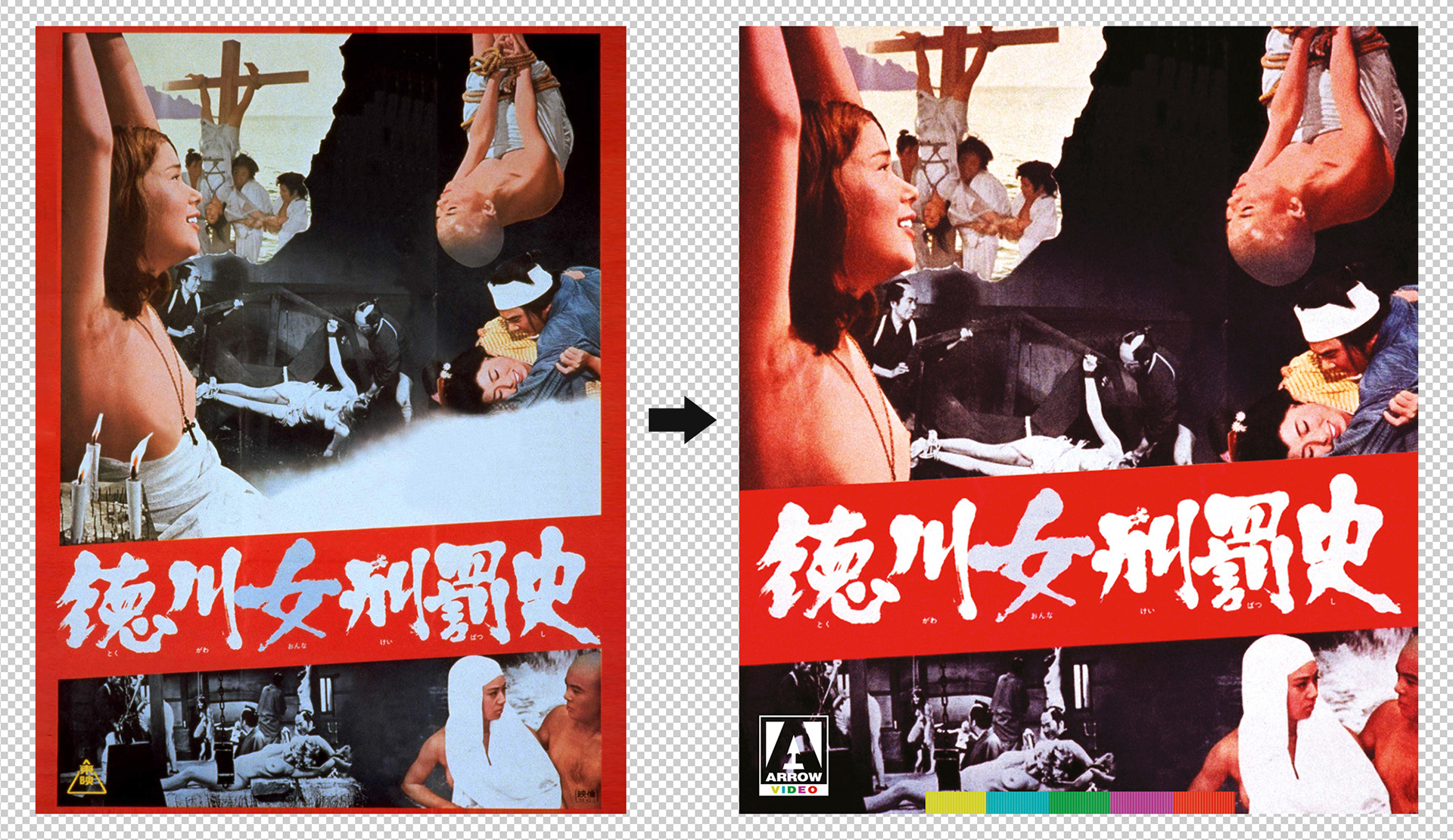 There weren't many stills on this one and what I did have was a mix of color and black and white. For the black and white shots, I added a subtle blue tint. For the second image below, I knew I was going to use it for a 2-page spread with text so I extended the top into darkness and replaced the ground altogether.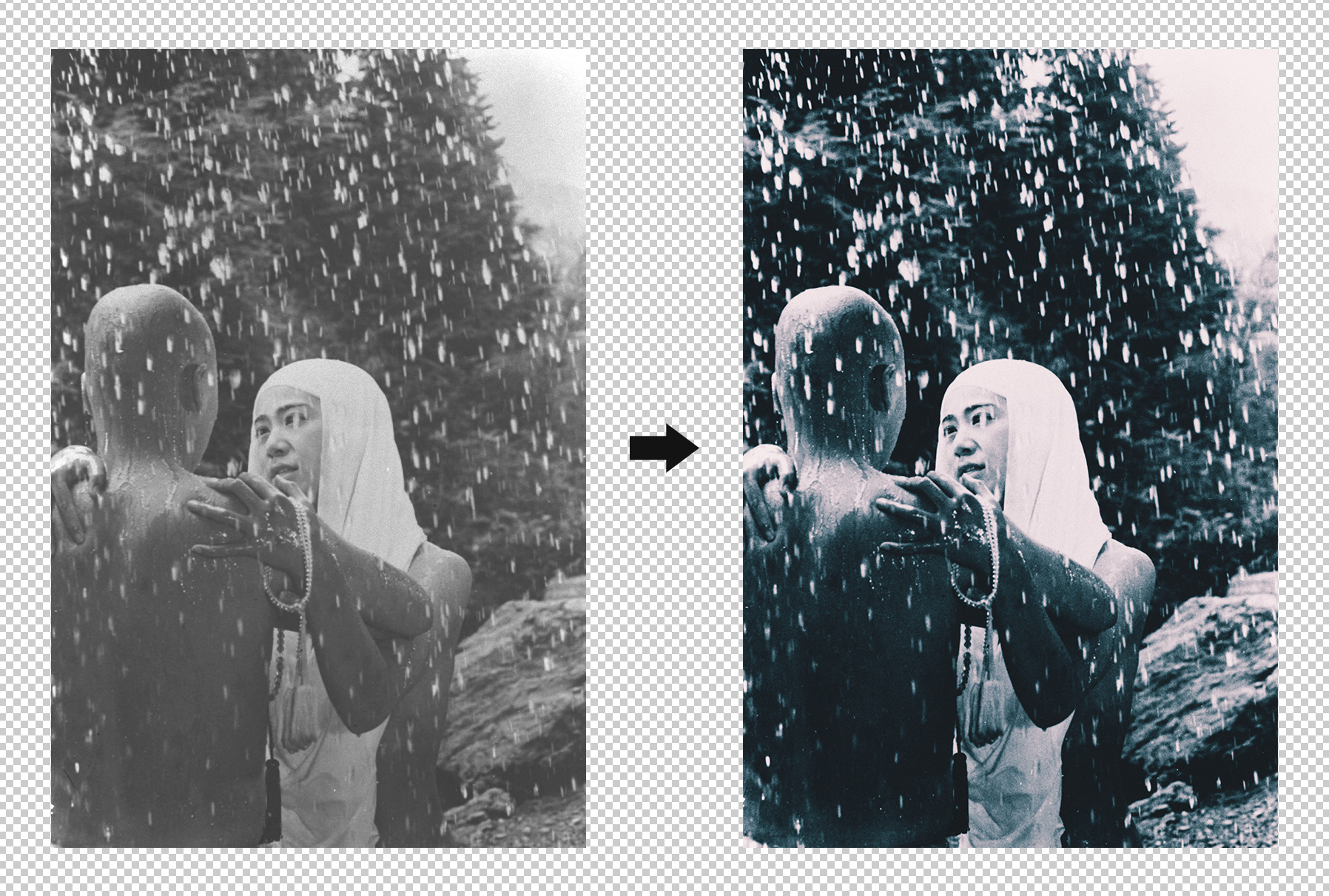 This booklet, if I recall, wasn't much of a challenge, though the filmography required the usual double- and triple-checking. After
Burst City
, I decided to keep future filmographies to one column. In addition to Dr. Jekyll, I used
Aviano Black
for subheadings and 
Trade Gothic Next LT Pro Condensed
for body copy. On this one I think I used three typefaces since Jekyll didn't reduce very well.