Layout, booklet, and prop blueprint re-creation for Arrow Video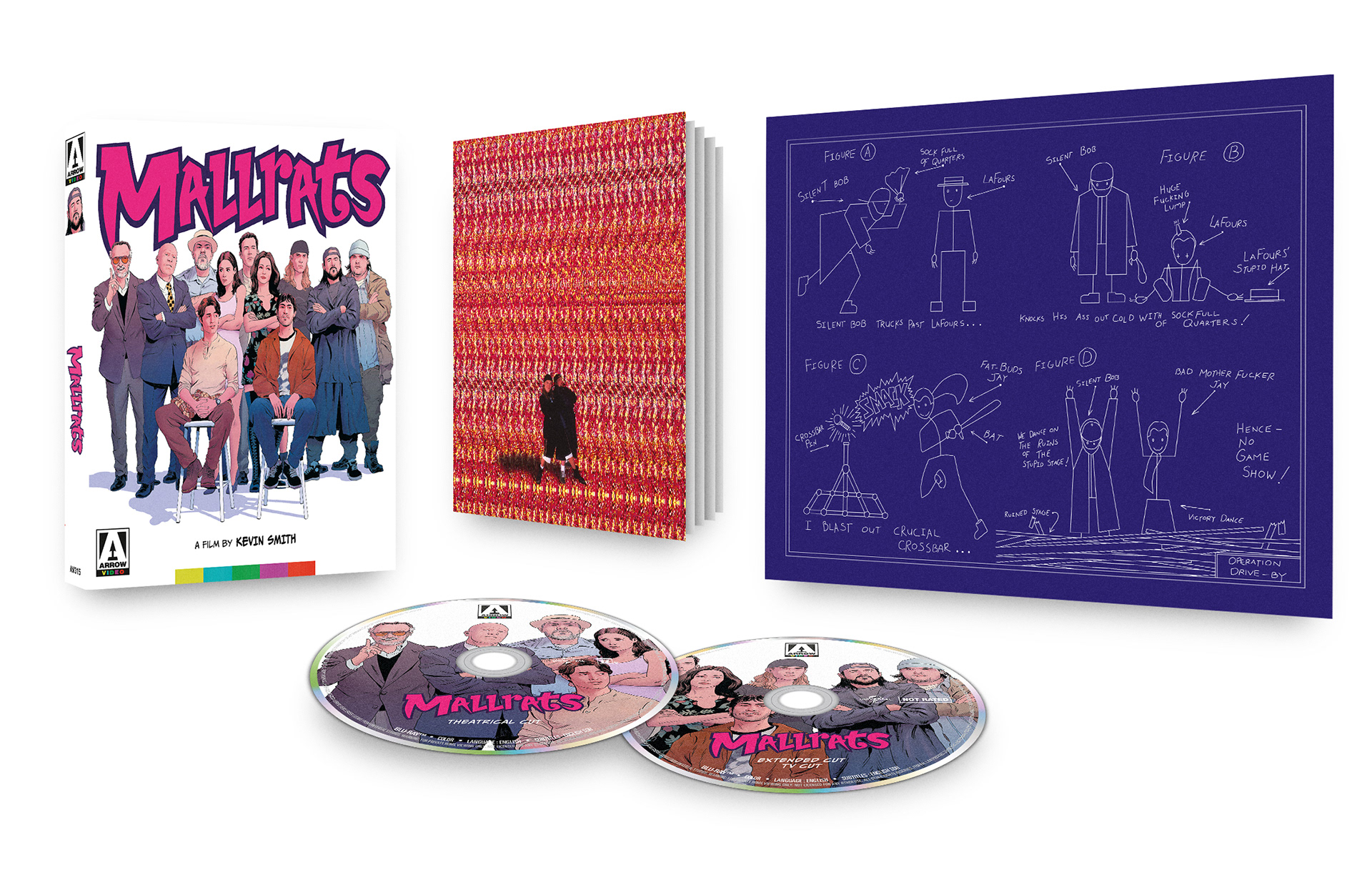 Snoogans!! I was absolutely elated back in June when I woke up to an e-mail asking if I'd like to work on a new Blu-Ray for Kevin Smith's
Mallrats
. I've been a Smith fan since high school when a friend recommended
Dogma
. I even got a photo with Smith and his autograph when he appeared at the 2002 Orlando MegaCon.
Since the announcement was only days away, my first order of business was to start on the blueprints. I needed to finish at least one side since it would be featured in the 3-D promo shot accompanying the announcement.
In the film, drug dealers and merry mischief-makers Jay and Silent Bob draw up two sets of blueprints in order to foil mall security guard LaFours and ruin Jared Svenning's dating show. Svenning is the disapproving father of Brandi Svenning, girlfriend of our hero T.S. Quint.
I was provided with a couple of low-resolution images but in the end, I grabbed HD screenshots from the existing Universal Blu-Ray and stitched them together. And since actual replica blueprints have been available from Jay and Silent Bob's Secret Stash for years, for the purposes of this release, I asked if I could add embellishments, like a grid or some subtle gradients, but was politely declined.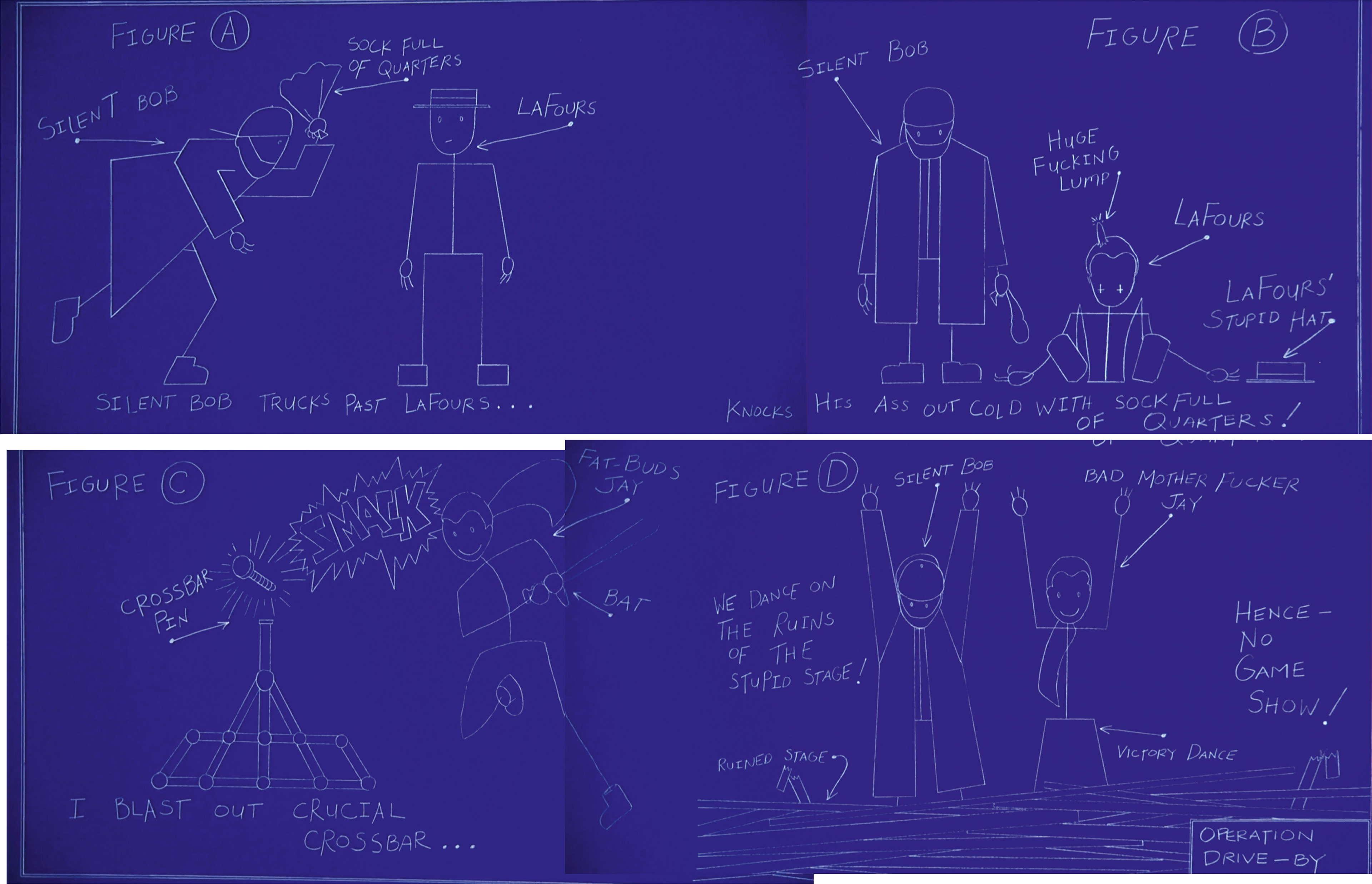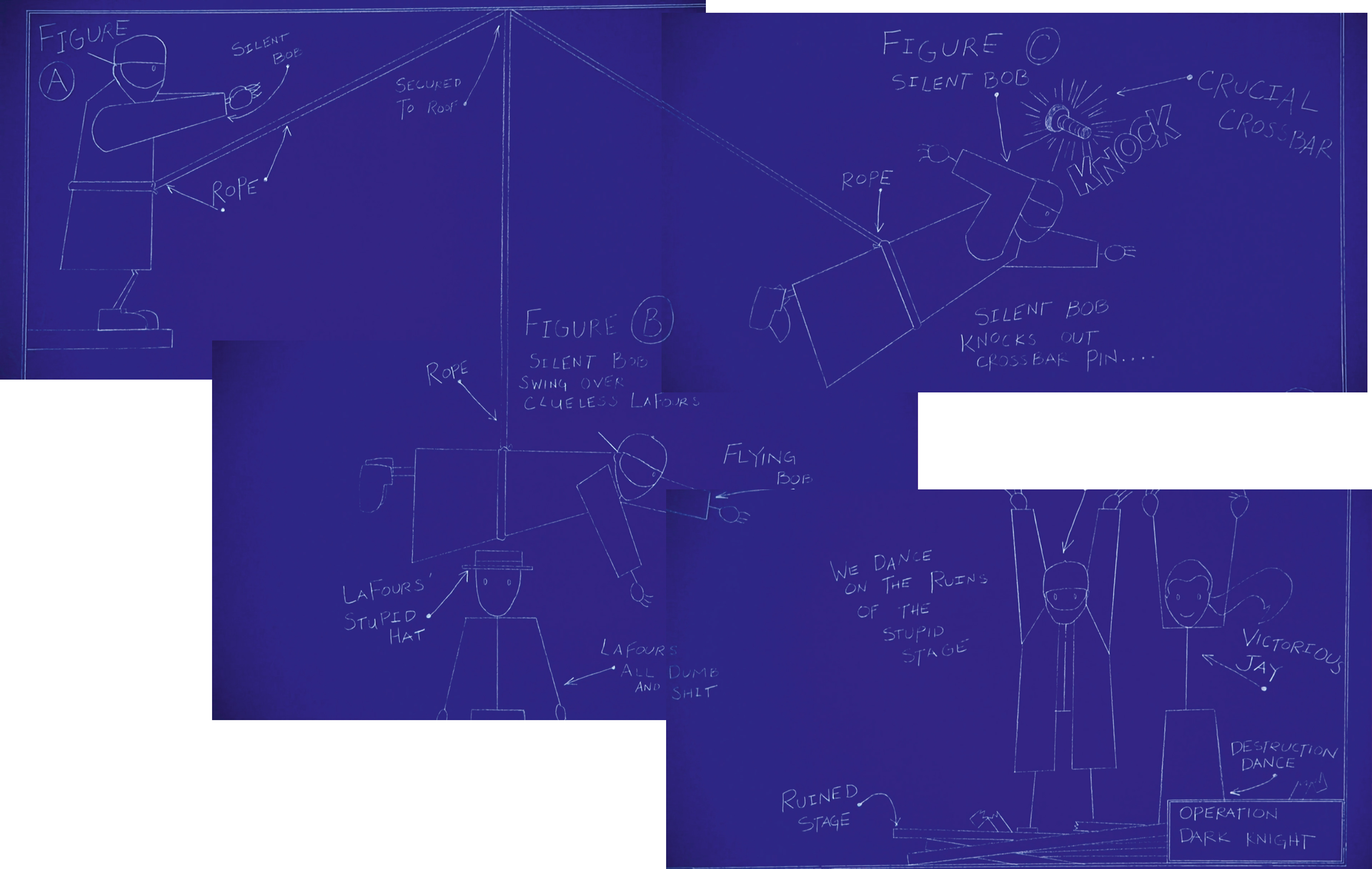 Arrow's dimensions were a little different to what was seen in the film so I made a few small adjustments, for instance lengthening Silent Bob's rope and reorienting some of the text. To borrow an insult from Smith's next film, I was nothing but a
tracer
!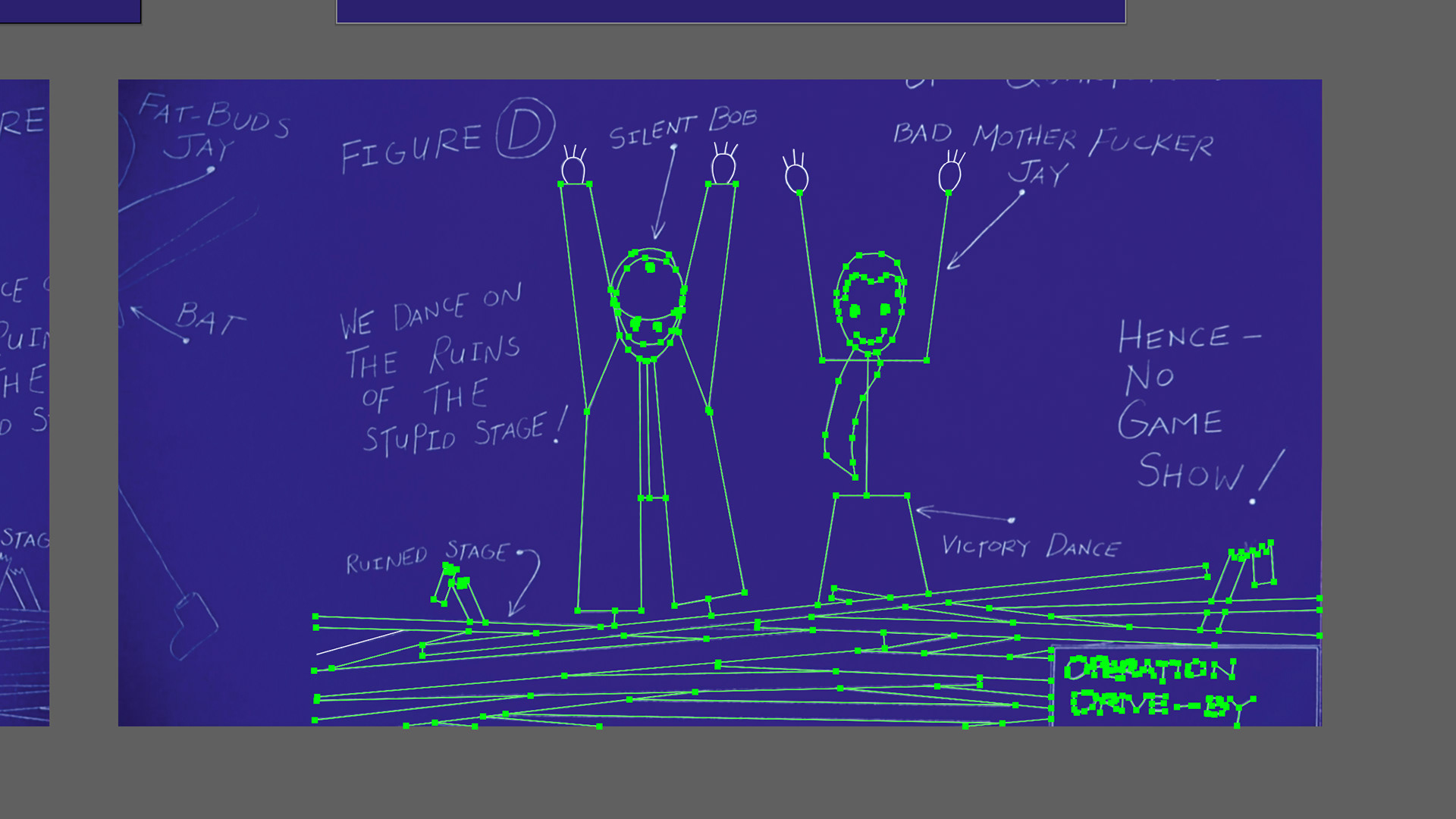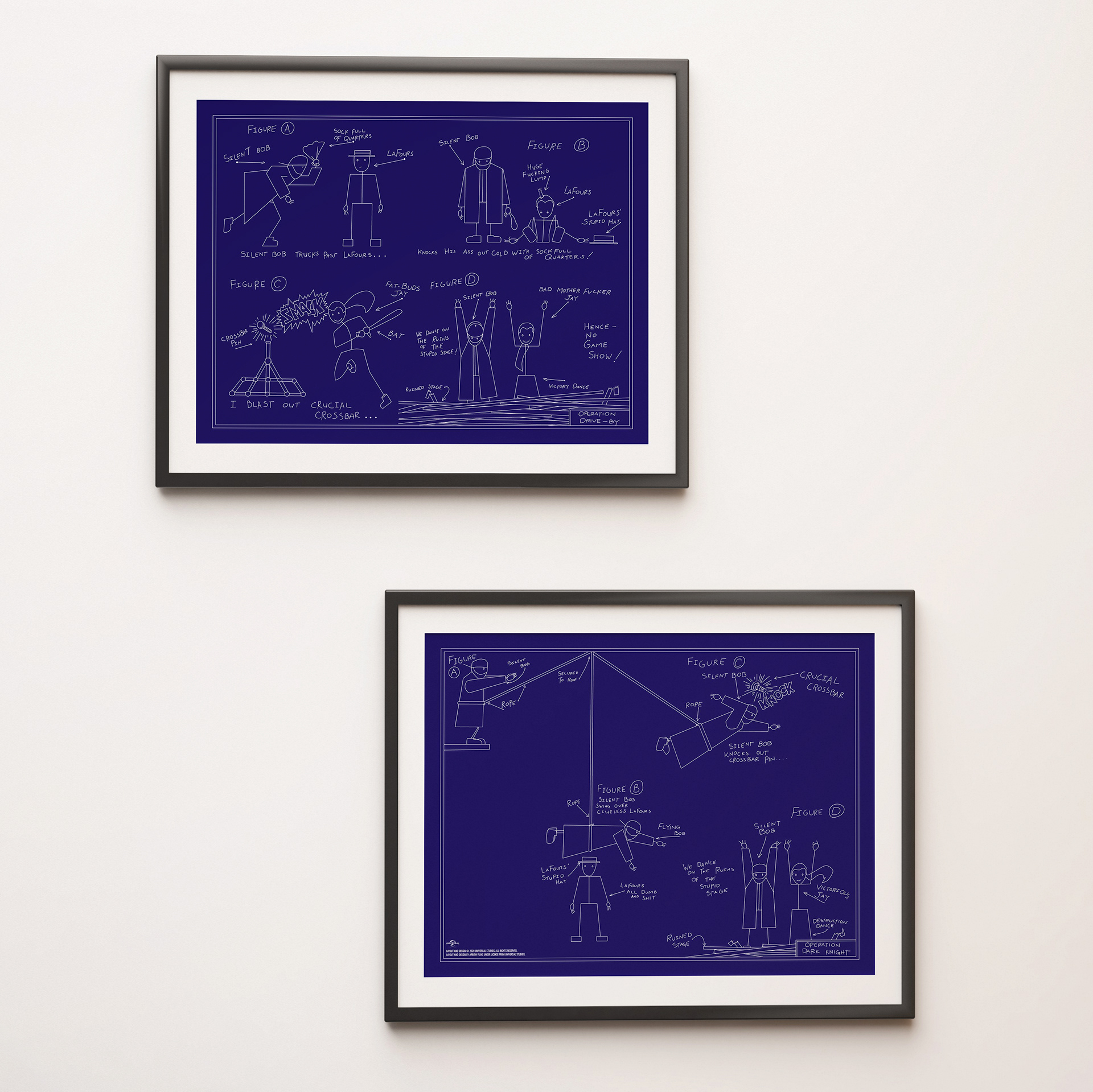 Universal sent over 840 images! For comparison, I received just over 100 images for
The Game
and that was for a 200-page book. This time around, I was limited to 24 pages. I've designed booklets as long as 40 pages but with two discs and the folded blueprints, the plastic case literally couldn't hold a larger booklet. (And incidentally, the studio archivist must've had a serious crush on actress Claire Forlani considering how many photos of her were included.) I managed to narrow it down to 175 images and then narrowed it down even more. My first reaction was, "Everyone is so young!"
Many of the stills required major dirt removal plus the usual color correction, brightness/contrast tweaks, etc. (Looking at these now, I wish I had dialed back on the contrast a little bit.)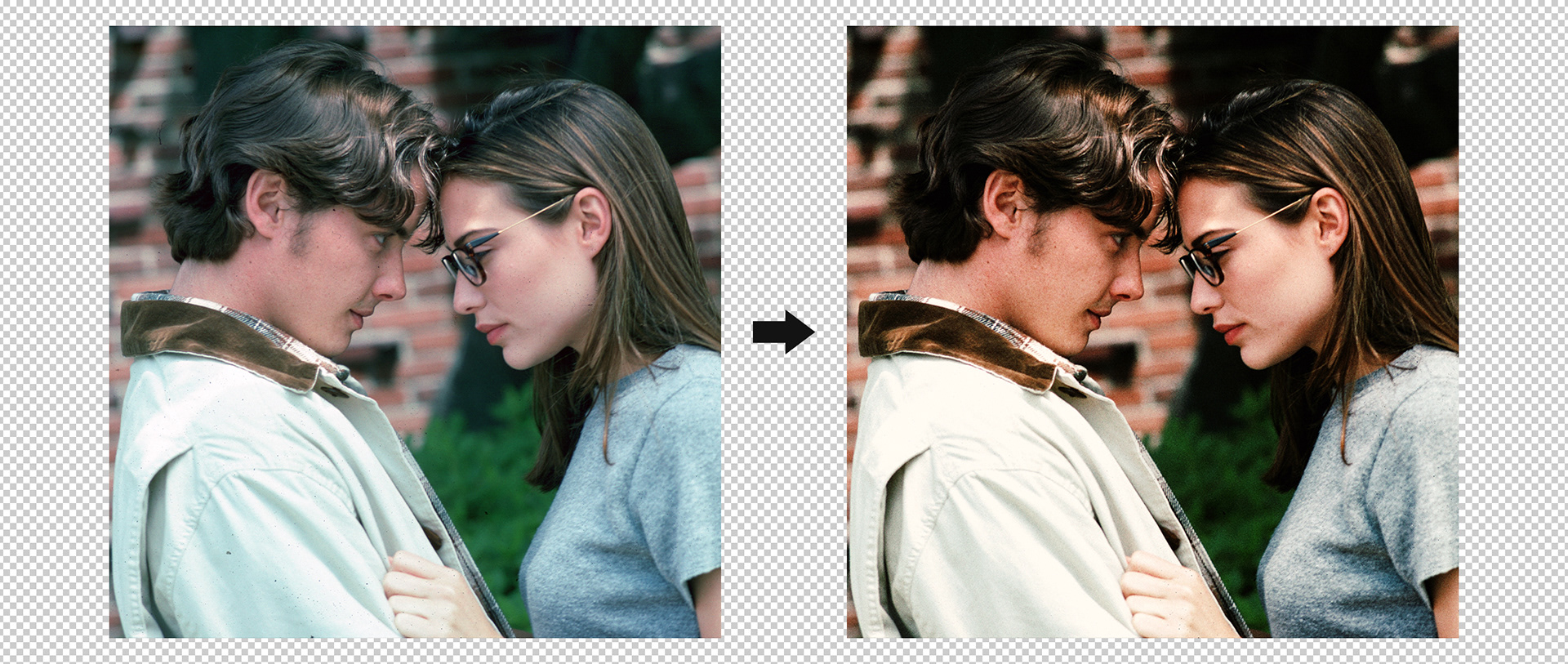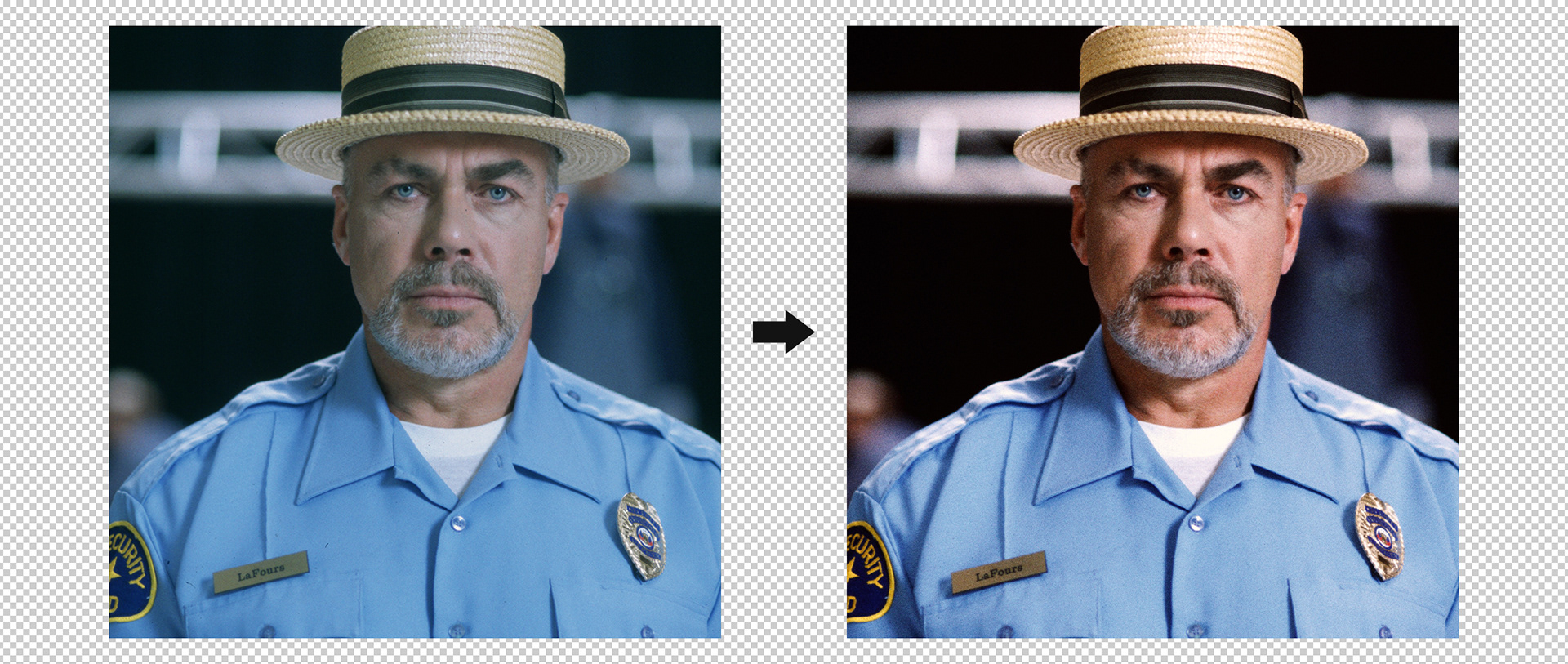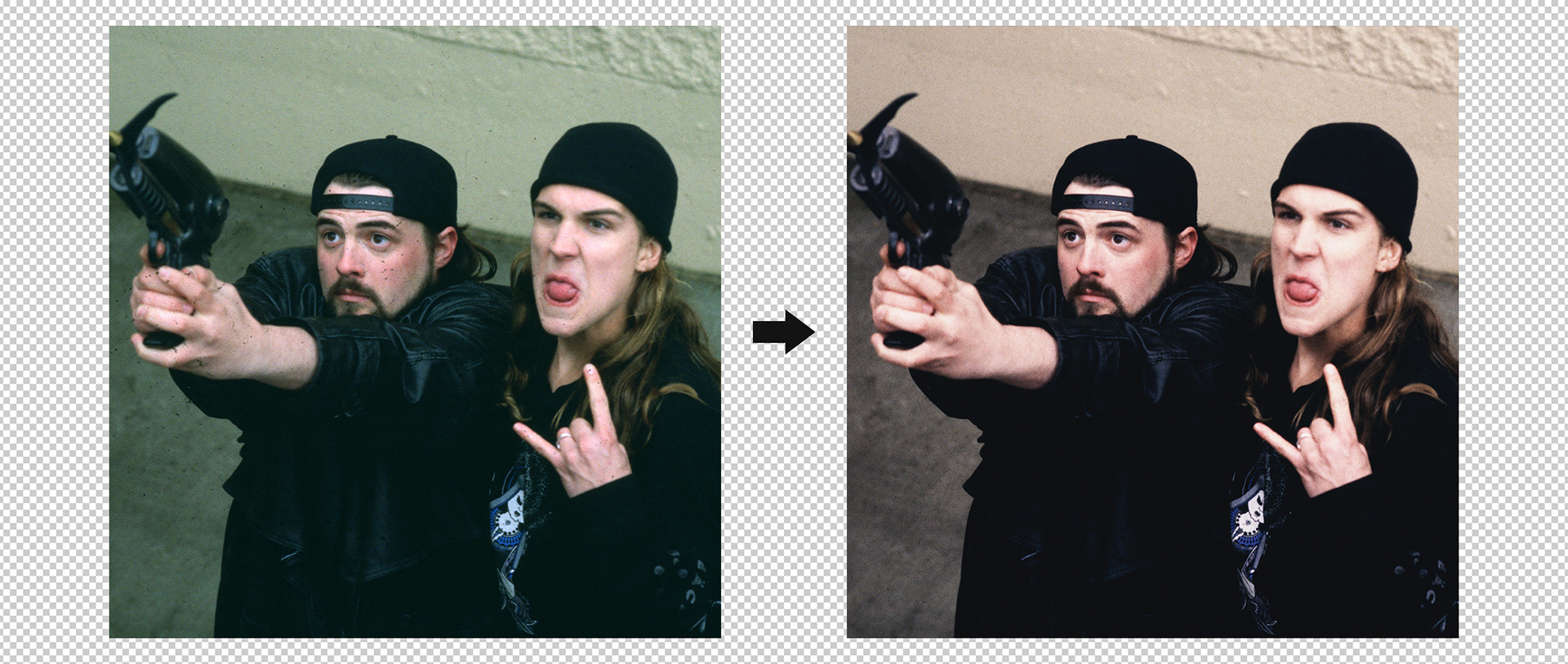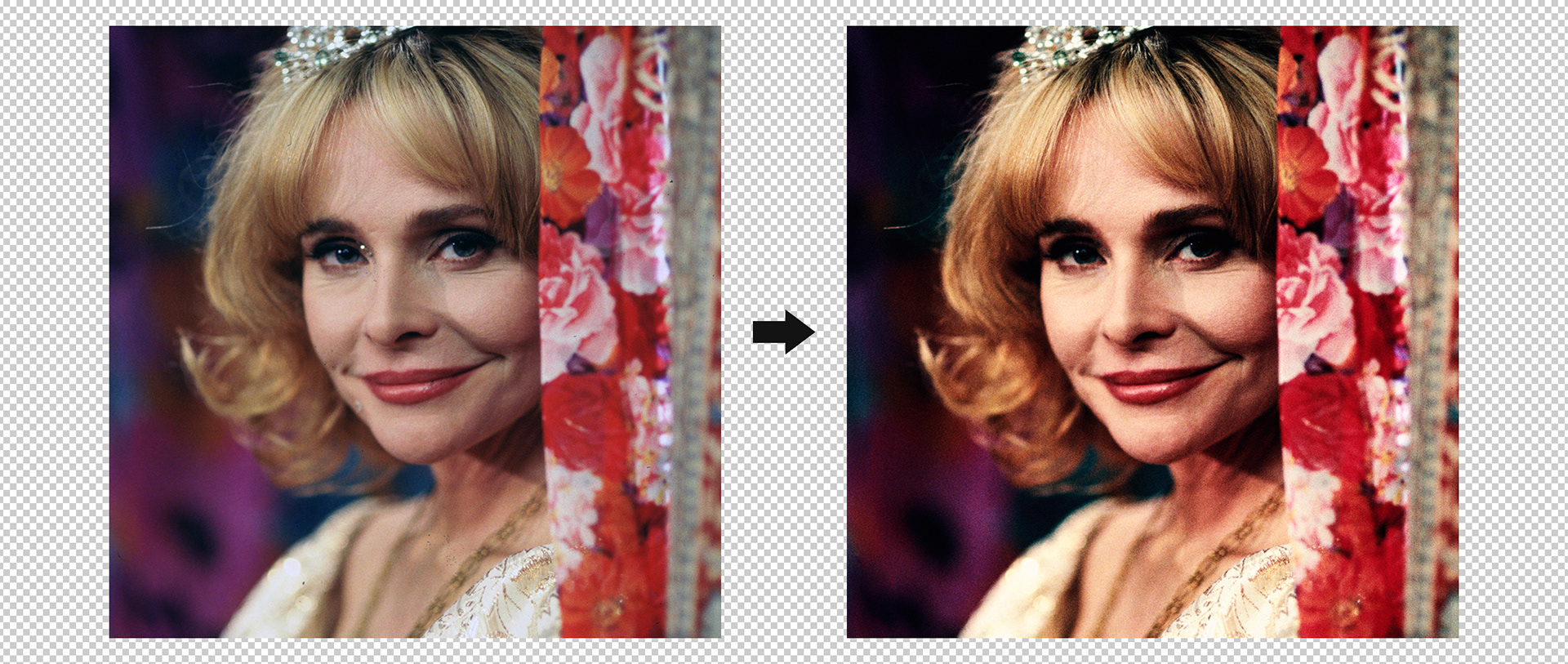 I knew immediately what I wanted to do for the back cover of the booklet. Inspired by a cool rendering I saw in La-La Land Records'
Planet of the Apes
boxset, I found the perfect image from the end of the film, featuring Jay, Silent Bob, and their orangutan Suzanne on an empty road. I extended the shot and added a sunset... actually just a free image from Unsplash.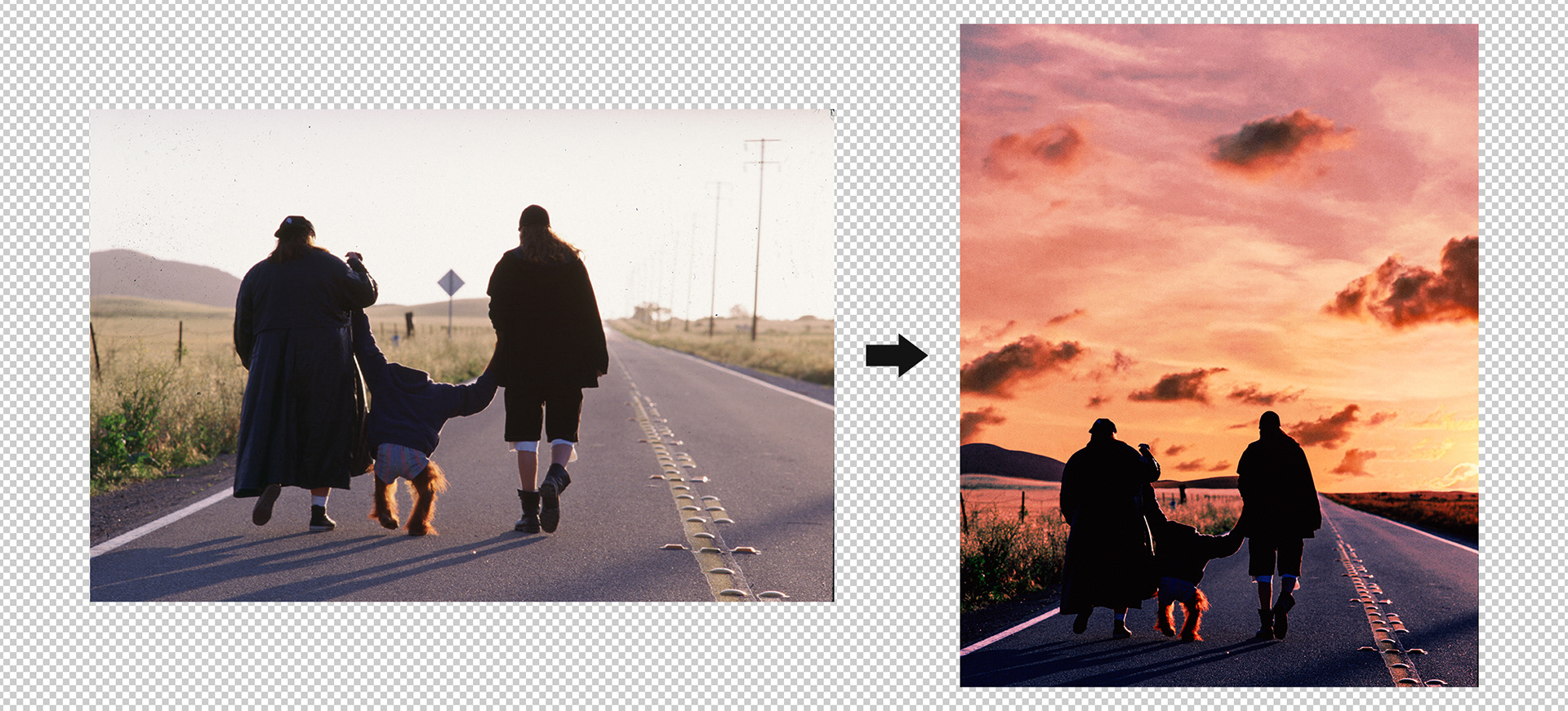 The new artwork you see at the top of this page was done by
Robert Sammelin
. For the reverse sleeve, there was no doubt we'd use the original one-sheet by one of the greatest poster artists of all time, Drew Struzan. (I highly recommend the documentary 
Drew: The Man Behind The Poster
.) I was given a high-resolution copy of the poster and for a while it looked like this was going to be it, billing block and all.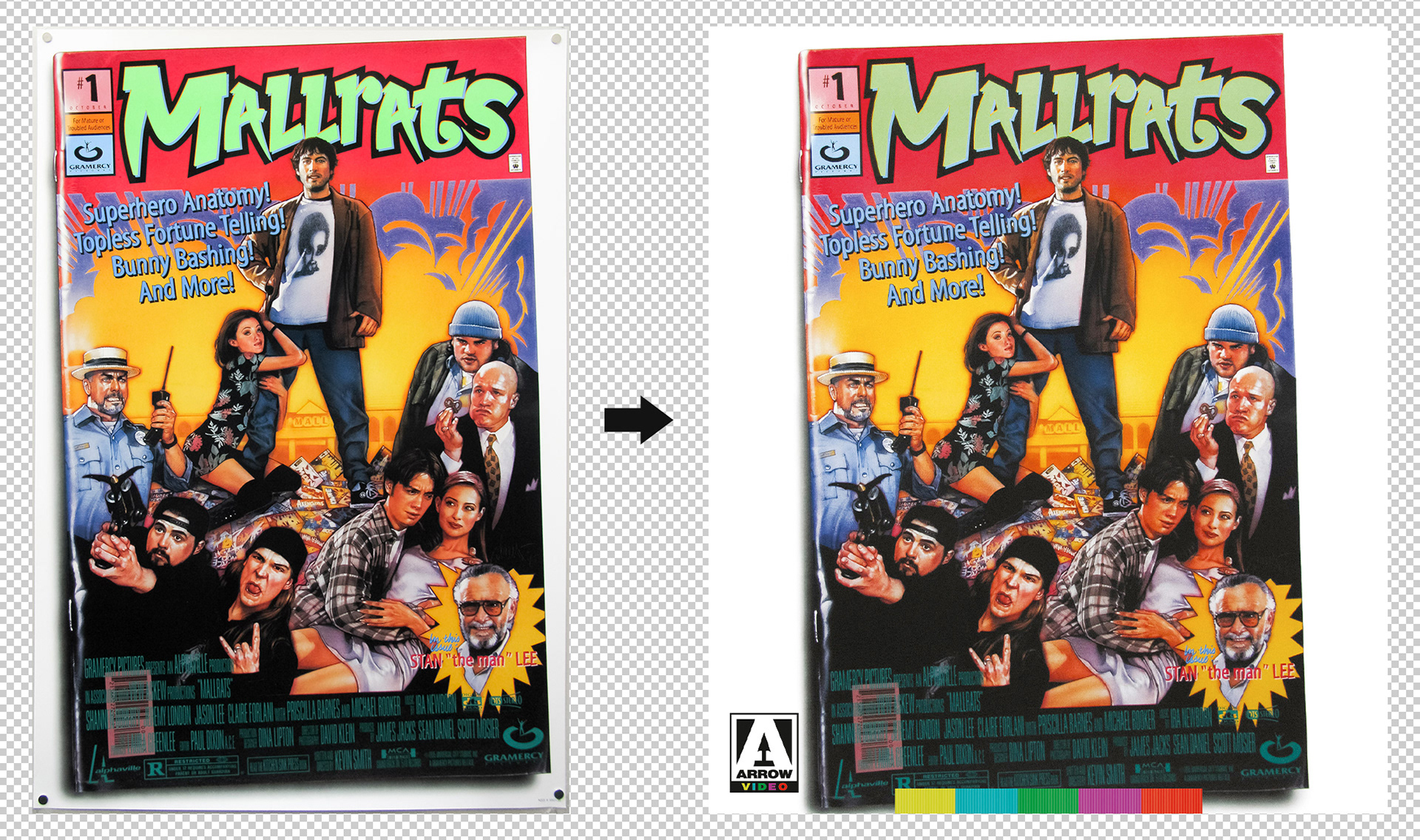 Later on, the producers located a clean version of the artwork and I was tasked with re-creating (most of) the text. I matched the fonts the best I could. Featured here are Frutiger LT 57 Condensed and Coniferous Light. They also didn't want the poster at an angle.
I ended up throwing out my first pass of the booklet completely. Originally, I wanted to add comic book-style flourishes (word balloons, halftone dots, etc.) but when I saw how many great photos I had to work with, I decided to present things as cleanly as possible. Besides, Universal already did the comic book thing with their various DVD releases.
It was all pretty straightforward and I managed to use a ragged margin for the text instead of Arrow's usual justified margin. My producers even found the original font used for the credits: Improv ICG. The typeface used for the body copy is Proxima Nova. And the dedication to Stan Lee was my idea... how could we not?!


This release was a tough one to work on, but still a lot of fun! Lots of tracing in Illustrator, lots of photos to look through, and the O-card required a separate spot gloss layer which was new for me.
Unfortunately, it was inevitable something would fall through the cracks. A month after I sent the files to the printer, I found a typo on the back cover: the word "There" is repeated in the tag line. So frustrating!! And then I found out that the rare magic eye poster used for the booklet cover was flipped. The poster was a late addition and I neglected to do the research—I simply used what was provided to me. Even when magic eye posters were popular, I could never decipher them (much like Willam in the film!)... so I had no idea the film's title was in there.
Having said that, I sincerely hope I get to work on more Kevin Smith titles in the future. (Not a hint, just a wish!) And click
here
to see an unboxing video featuring Kevin himself.
Looks like this title has been reprinted and the errors mentioned above have been fixed!